RandARP v1.22
RandARP is a VST plugin arpeggiator with many randomization features, allowing incoming notes or chords to be manipulated in various rhythmic ways. All standard arpeggiator parameters like number of octaves, note length and note order are included, but the plugin also offers complete randomization of the velocity, gate, shift and swing parameters. In addition, you can specify a note probability and randomize the note order, the octave order, and the number of octaves. All the randomization features allows you to create more interesting and unpredictable arpeggiated sequences.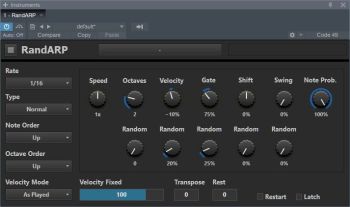 System Requirements
Windows XP/Vista/7/8/10. VST2 compatible 32-bit or 64-bit host.
License
This plugin is free to use for commercial or non-commercial use, but is copyrighted and cannot be distributed without permission.
Download & Installation
Click "Download", open the downloaded zip file and extract the dll file to your VST plugin folder (RandARP32.dll if you use a 32-bit host, or RandARP.dll if you use a 64-bit host).
Version History
v1.22
Fixed: Dialog boxes shown behind plugin window in Reaper if plugin window was pinned ("stay on top").
v1.21
Fixed: Poly Aftertouch and Program Change midi messages not passed through plugin.
v1.20
Length parameter renamed to Rate.
Added a free rate mode, not synced to the host's tempo/grid. Use the new Speed parameter to scale the step length from 0.25x and up 4x of the arpeggiator rate. For example, if Rate is 1/8 and Speed is 0.50, the length of each step is now a quarter note. If Rate is 1/8 and Speed is 2, the length of each step a sixteenth note. But you can of course use Speed to set up a step length to be in-between standard rates, for example 1.10 which will give you a step rate that is 10% faster than the selected rate.
Added 3 new random options: Note Order/Random Once, Note Order/Random Oct Once and Octave Order/Random Once. This will create a random pattern, but repeat this pattern until the input notes changes.
In all right-click popup menus showing parameters values, the highest value is now shown at the top of the menu.
Fixed: Various timing issues.
Fixed: Plugin would crash/plugin window not display on some Windows installations.
Fixed: Problem setting parameter values with mouse in Ableton and Bitwig.
v1.12
Global settings now stored in documents folder instead of Windows Registry.
Fixed: "D#" shown instead of "C#" in info panel.
Fixed: Setting Octaves Random to 0 did not take effect before input notes were changed.
Fixed: Problem with size of message boxes if skin other than Carbon was selected.
v1.11
Fixed: Would occasionally drop notes with one input note, length set to 1/16 or shorter, and octaves set to 1.
v1.10
User guide now included.
Updated internal framework and GUI.
Added support for randomizing number of octaves.
Possible to hold down Shift to fine tune the value selection with the Velocity Fixed slider.
Added a Lowest Octave setting.
Fixed: Various sync problems when looping was enabled in the host.
Fixed: Problem automating Octave Order parameter.
Fixed: Problem with default window size in Cubase.
Fixed: Problem with 'Load Preset' panel, and message boxes in Minihost Modular stand-alone.
v1.02
Improved sync to host.
Fixed: Sometimes double notes generated when changing input notes.
Fixed: Problem with note length if Shift was negative.
Fixed: Problem with MIDI Clear CC command if multiple controls set to same CC #.
Fixed: Problem with text color in menus on Windows XP.
Fixed: Error when unloading plugin from memory.
v1.01
Removed beep when clicking outside preset panel.
Fixed: Crash when editing certain settings when transport was running.
Fixed: Did not work properly when transport was not running.
Fixed: Timing issues in Reaper.
v1.00